Review of population to determine existing gaps and vulnerable persons in need. This also includes a thorough evaluation of the environmental factors and resources required (food, funds and volunteers) to ensure the smooth execution of FCFA's food drive initiatives, including legal and regulatory requirements.
The Business Plan will define the structure, governance, management, operations, and administration of the FCFA's food drive system. It will include the necessary assumptions and decisions regarding staffing requirements, facility and fleet requirements, operating procedures, logistics demands, service delivery procedures, communications and media relations plans, and community outreach and partnership development plans.
In this phase, the appropriate representatives of the FCFA Food Drive projects will solicit identified funding sources to generate the financial resources necessary to activate the food bank system.
Having built a viable Business Plan for FCFA's food drive projects, and secured the necessary capitalization, operations are launched within the specified timeline. We will closely monitor and evaluate the project during implementation to quickly identify problems and concerns that evolve so they can be resolved expeditiously.
Full process evaluation and operations assessments will be conducted at several points of the project. These assessments will ensure that all issues identified are being appropriately dealt with in a comprehensive manner. Upon completion of the project, the FCFA Food Drive Committee will facilitate an impact and outcome evaluation.
We are delighted to serve the needy and helpless with love and trust…
Mark your calendar for our 2020 thanksgiving dinner!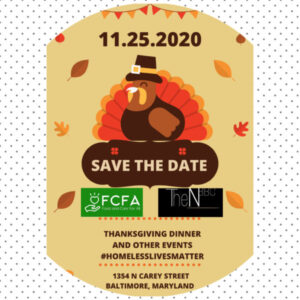 Testimonial from one of the beneficiaries at the 2019 Thanksgiving Dinner Outreach For The Homeless in Baltimore City
On the eve of Thanksgiving 2019, we had the opportunity of serving dinner to homeless families in Baltimore City.
The purpose of the 2019 Osun State Food Drive Project was to ensure that residents of Osun State, especially individuals living in extreme food insecure areas, had undeniable access to one of the basic things of life (food), and also meet their dietary needs. Given our limited budget, we strategically targeted geographical areas of high food and medical needs located in the following local government areas (LGAs):
1. Ila- Orangun LGA, Osun State, Nigeria
2. Ifedayo LGA, Osun State, Nigeria
3. Boluwaduro LGA, Osun State, Nigeria
We however, hope to expand our services to other areas in Osun State and across Nigeria as we build capacity.